About National Spinning
National Spinning Co., Inc. is an employee-owned manufacturer and distributor of a wide variety of yarns.  Spinning systems include short staple ring, open end, and worsted spinning.  Raw materials include synthetic and natural fibers.
In addition to its yarn business, National Spinning has two other operating divisions.  Hampton Art designs, produces, and merchandises consumer craft products. Carolina Nonwovens produces and distributes air-laid thermobonded pads and rolls.  In addition to these, National Spinning maintains, manage, and leases commercial space in its Washington, NC facility alongside Kennedy Creek.
This site is primarily concerned with our yarn business.  For our other divisions, please click the links.
Our origin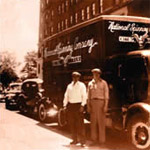 Founded in 1921 by Phillip and Carl Leff, the company went public for about 10 years in the 1960s-70s. We became an ESOP company in the 1990s.  Originally, wool yarn was manufactured in Jamestown, NY and sales were based in the Northeast and Midwest, but the company expanded greatly during the era of synthetics.  In the 1950s and 1960s the company built new facilities and relocated its manufacturing to North Carolina, USA. In the early 21st century we acquired Hampton Art, a manufacturer of paper-based products sold to craft stores.  In 2012 we acquired Carolina Nonwovens, a producer of nonwoven fabrics for a wide variety of industrial end-uses.
Today we operate 1 spinning facility, 1 fiber-blending facility, 1 nonwoven facility, and a distibution center, all in North Carolina, USA.  Yarn products are sold domestically and for export. Our other divisions sell mainly domestically.
Our mission
We strive to be the essential, reliable, trustworthy, "go-to" resource for a diverse range of of yarn, consumer craft products, and industrial nonwoven products, helping to achieve success for our trading partners, shareholders, and associates.
Our values
Financial health for ourselves, our customers, and our suppliers.
Professionalism through training and practices.
Quality and service.
Innovation.
Flexibility.
Safety and health.
Environmental responsibility.